It all started with a back packing trip to Nepal in 1999. The plan was to continue to the further east, but the interest and love to this amazing country made us stay. We saw how the Nepali people used felt. We wanted to combine simple Danish design with this fantastic raw and rustic fabric, and the idea of "Én Gry & Sif" was born.
"Én" in Danish means "one – and only one". All Én Gry & Sif products are handmade, so there is only "one" of each, since there will always be small differences in each product.
Én Gry & Sif is Danish desig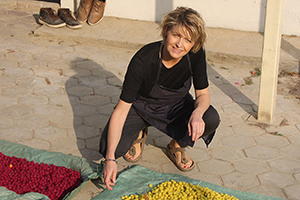 n, but all handmade in Nepal by very skilled workers. All products are made of pure natural wool from New Zealand.
It is mostly women Én Gry & Sif support by their work, since it is shown that the women are the best to make sure that the income goes to the families.
In 2009 Én Gry & Sif got there Fair Trade certification from The World Fair Trade Organization.
The Nepali people is smiling, open minded and very friendly. The love to the Nepali people is great and will always be there.